What is EZmoney?
The EZmoney funding system is a free method for depositing money based on the Automated Clearing House (ACH) process. You can use this method to transfer funds between your checking / savings / money market account and your wagering account for immediate access.
How much does it cost to maintain and transfer funds?
We do not charge transaction fees for using EZmoney. However, any transactions returned by your bank will be subject to a $25.00 per item service fee. Consult with your bank to find out if additional fees are imposed.
How do I add a bank account to deposit with EZ Money ?
From the Bet Now page, select "Balance" from the top menu bar.
If you've used EZmoney previously, your deposit option may default to EZmoney.
Click on the trash can to the right and across from your old account number. This will remove the old account and you can enter a new one.
If you have an EZmoney transaction pending on your old bank account, you cannot change to a new bank account until that transaction has cleared. Changing your bank information does limit your "first time" deposit to $100.
Your bank information cannot be deleted because your account was used for a financial transaction and we are required to keep this information for 7 years. Your privacy is very important to us and, rest assured, we protect this information very securely and make sure it is kept confidential at all times.
Enter the amount you wish to deposit to your wagering account.
Choose either Checking or Savings.
Enter the required, bank routing (9 digit) and bank account numbers. (see below)
Then choose Deposit Now when all fields are completed.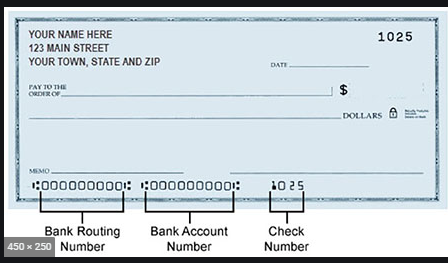 Is there a delay in transferring funds to or from my EZmoney account?
Your EZmoney transactions may take three to five calendar days to complete the banking process.
Transactions are generated electronically in a batch process. Funds requested on the weekend or a holiday will be processed by our bank on the first business day following. In most cases you will not see any noticeable delay in the transfer process. At times of peak volume during heavy race schedules there may be a slight delay in the processing of EZmoney transactions.
How do I make an EZmoney withdrawal?
You must first set-up EZmoney as a deposit method and have a successful deposit. Once your account has been verified and a successful deposit transactions has completed, you will have the option to transfer to your bank account from your wagering account. You may withdraw any amount from your wagering account less any pending deposits that have not cleared the banking system.
Click My Account
Click My Funds
Click Withdraw
Click EZmoney
Enter the amount you would like to withdraw from your wagering account into your banking account.
Click Withdraw
Note: If you are entering banking account and routing information at this point, you will be performing a deposit not a withdrawal.
What are my deposit limits?
The minimum amount for a single deposit transaction is $10. The minimum amount for a single withdrawal transaction is $0.01. The maximum amount of your initial EZmoney transaction is $100. After your first transaction successfully clears the banking system, your dollar-value limit for total transactions pending / processing the banking system will be $2000.
How often can I use EZmoney to transfer funds?
Electronic transfers from savings accounts are limited under federal regulations. Our system does not limit the number of individual transactions up to your established dollar-value limit. Some bank services may have monthly transaction limits and charge you an additional service fee. Consult with your bank to find out if your bank imposes additional fees.
How do I change the bank information for EZmoney transfers?
Click My Account
Click My Funds
Click Deposit
Make sure you can view all of the deposit options (you may need to click the " < " to see this) and click the replace button under EZmoney.
How can I request an EZmoney limit increase?
To request a limit increase, please contact player services. Please note that you may be required to complete and submit an EZmoney Authorization form and attach a copy of a voided check.
How will this charge appear on my bank statement?
Our merchant account name reads "DK Horse" on your bank statement for EZmoney transactions.
What information is checked by Data-X during the activation process?
EZmoney uses Data-X authentication services for account activation to verify account status, standing, and validity. All information collected will not be disclosed to other third parties, as provided in our Privacy Policy.
What does ACH mean?
ACH is an acronym that stands for Automatic Clearing House. The ACH network is a highly reliable and efficient nationwide batch-oriented electronic funds transfer system, governed by the NACHA Operating Rules, which provide for interbank clearing of electronic payments for participating depository financial institutions. The Federal Reserve and Electronic Payments Network act as ACH Operators, central clearing facilities through which financial institutions transmit or receive ACH entries.